Di Re' Formal Wear - Franklin Square, NY
Proms, Weddings, or just a Special night out!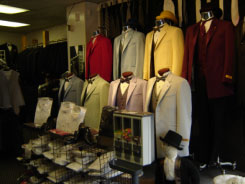 Di Re' Formal wear is a family owned and operated business with over 20 years combined experience in the clothing industry. Joseph Di Re' and his staff of trained courteous professionals, are ready to assist you with all your needs. We are located at 315 Franklin Ave. in Franklin Square NY, within the Royalty Limousines building.
Why deal with catalogs? We have a fully stocked store, with over 60 fully dressed mannequins. Let us make your special occasion, incredibile!
Check our styles and prices.We have been featured in the 'Long Island Wedding Pages', and are ready to dress you for succcess....

Designer Tuxedos - The Classics to the Ultra Modern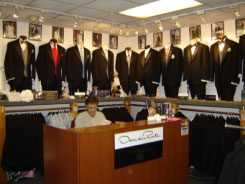 At Di Re' Formalwear it is our job to help make your special day pleasant and hassle free. That is why we have over 10,000 Tuexedos and accessories, tailoring on the premises, and on the spot emergency service. Our experts can show you a classic, or fashion forward tuxedo, depending on your taste, and then with some accessories, we can give you a distinct style all your own. Sizing is never a problem since we carry sizes from 2T - 72XL. We also have Spanish speaking employees for your convenience. We are opened 7 days a week, so we can suit up all of your out of town guests in need of formal wear.

Di Re' , Royalty Limo and Fanfare Brass working together!
Tuxeos and Limousines go together! ( Prom Headquarters 2006)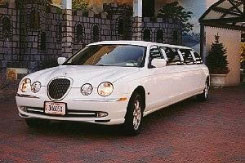 Di Re' Tuxedo is located within Royalty Limos, which has a great variety of limousines. Featuring Authentic Excaliber Stretch Limousines, Daimler, Rolls Royces, Mercedes, BMW, Chrysler 300, Jaquar, Lexus, Cadillac, CTS, 30/40 Limo Bus, 20 passenger Hummer, 20 passenger Escalade, 8 - 14 passenger Lincoln Super Stretch Limos.
Choose a Class combination, to make your night the best it can be!